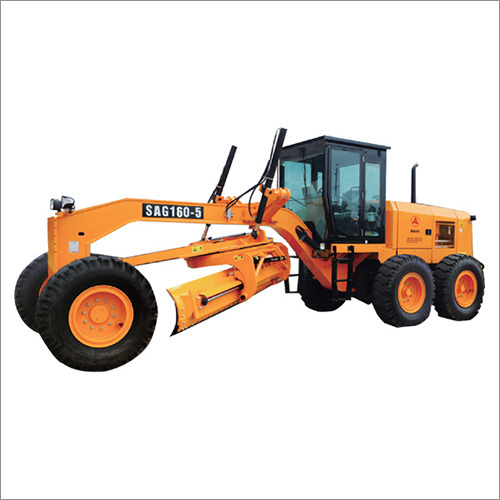 Product Description
160 HP Motor Grader
Benefits & Features
Tiptronic, energy saving and reliable

ZF electro-hydraulic automatic transmission makes the 160 HP motor grader comfortable and ease of operation.

Tier III engine, environmental friendly and reliable

The energy efficient mode saves energy consumption by 10%, equipped with German Bosch high pressure common rail oil injection system.

Master of moving snow, floating snow removal and rapid road sweeping

The first snow moving functionality provided by a floating moldboard is professional and efficient.
A rear mounted roller brush sweeps snow off the road.

Designed for heavy duty work, abrasion-resistant, and adjustable

The 160 HP motor grader adopts customized Meichi heavy duty rear axles, SKF bearings, and strengthened chain to challenge heavy duty jobs.
The main and side blades are thickened and a U-shape rail is applied to prolong the product service life.
Technical Specifications
| | |
| --- | --- |
| Engine model | Cummins QSB4.5-C160 |
| Emissions | Tier III |
| Rated power/speed | 119/2200 kW/rpm |
| Max.torque/speed | 949/1500 N.m/rpm |
| Forward/Reverse gears | 6/3 |
| Speed forward | 5/9/11/18/26/41 km/h |
| Speed reverse | 5/11/26 km/h |
| Max.hydraulic pressure | 18 Mpa |
| Transmission system pressure | 1.6-1.8 Mpa |
| Max. front wheel turning angle | ±50° |
| Max.front wheel tilt angle | ±17° |
| Max.oscillation angle of front axle | ±16° |
| Max.oscillation angle of tandem box | ±15° |
| Min.turning radius | 7.3 m |
| Rear axle ground clearance | 400 mm |
| Moldboard width x Arc radius | 3660×620 mm |
| Max.blade position angle | ±90° |
| Blade==Max.lift above ground | 480 mm |
| Blade==Max.depth of cut | 715 mm |
| Blade tip range | 27°-72° |
| Circle rotation | 360° |
| Max.penetrating angle | 65° |
| Max.scarifying depth | 395 mm |
| Ripper==Max.lift above ground | 577 mm |
| Max.departure angle | 17° |
| Ripper==Max.working width | 2300 mm |
| Dozer==Max.depth of cut | 160 mm |
| Dozer==Max.lift above ground | 590 mm |
| Dozer==Max.working width | 2440 mm |
| Operating weight (Standard) | 15200 kg |
| Max.operating weight | 15950 kg |
| Dimensions (Standard) | 8950×2540×3220 mm |
| Dimensions | 10730×2540×3220 mm |