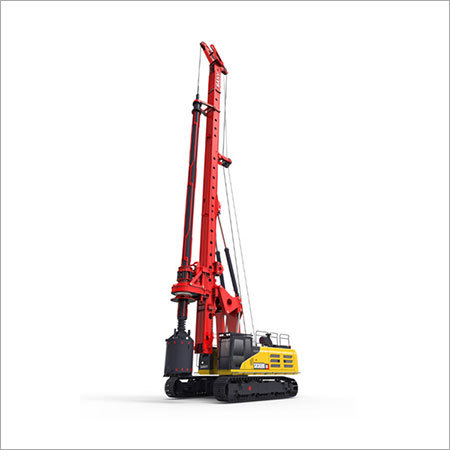 Product Description
220 kN m Torque Piling Rig
Classic Model
With 220 kN.m Torque piling rig SR220C is mainly used in medium and small-sized bored piles of civil engineering, it is suitable for clay, pebble layers, and highly weathered rock.
High Efficiency
250KW engine provides strong power for operation which enhances construction efficiency.
High rotary drive torque ensures high drilling speed.
High main winch line pull and line speed ensure high drilling efficiency.
High Reliability
All the key components are jointly designed by world famous manufacturers and are customized.
Full-automatic production line and robot welding ensure the piling rig SR220C high quality.
100% nondestructive test of key components ensures quality, stability and excellent performance of the machine.
Intelligent and Safety
Increased safety protection design facilitates construction, maintenance, troubleshooting and management.
Technical Specifications
| | |
| --- | --- |
| Overall height | 21107mm |
| Operating weight | 74t |
| Max. pile diameter | 2300mm |
| Max. pile depth (friction bar) | 64m |
| Max. pile depth (interlocking bar) | 47m |
| Max. output torque | 220kN.m |
| Rotation speed | 7~26rpm |
| Crowd force | 180kN |
| Line pull | 200kN |
| Stroke | 5160mm |
| Main winch - line pull | 240kN |
| Main winch - rope diameter | 28mm |
| Main winch - max. line speed | 53m/min |
| Auxiliary winch - line pull | 110kN |
| Auxiliary winch - rope diameter | 20mm |
| Auxiliary winch - max. line speed | 70m/min |
| Forward/Backward | 5° |
| Lateral | ±5° |
| Chassis model | SY460R |
| Chassis length | 7035mm |
| Extended width | 4490mm |
| Track shoe width | 800mm |
| Swing radius (backside) | 4105mm |
| Transport width | 3190mm |
| Transport height | 3520mm |
| Base engine Mitsubishi | 6D24-TLC1B |
| Engine power | 250kW@2000rpm |
| Emission standard | EU stage Ⅱ/EPA Tier 2 |